Shopping Cart
Your Cart is Empty
There was an error with PayPal
Click here to try again
Thank you for your business!
You should be receiving an order confirmation from Paypal shortly.
Exit Shopping Cart
Assurance Home Inspection Services llc.
Residential & Commercial Inspections
interNACHI Certified Master Inspector

Wind Mitigation & 4-Point Inspections
Air Quality/Mold Testing
Pool Inspections
(239)770-3391

​

​​

GFCI Outlets in your home

______________________________________________

Function

Unlike standard electrical outlets, a GFCI outlet constantly monitors the amount of current flowing between the left (hot) and right (neutral) slots. If the GFCI outlet detects even the slightest deviation in the amount of current flowing between these two slots, it trips the internal circuit and cuts off electricity to the outlet.

Uses

GFCI outlets have been a requirement of the National Electrical Code in the following situations:· Outdoor receptacles since 1973
· Bathroom receptacles since 1975
· Garage wall outlets since 1978
· Kitchen receptacles since 1987
· Crawl space and unfinished basement receptacles since 1990If your home was built before these dates, they are "grandfathered" and not in any violation of the Code. However, if any remodeling is done to your house in these areas, you are required to update your wiring to meet these standards.

Benefits

The main reason that a GFCI will detect a deviation in the amount of current is because the wayward electricity is finding another way to the ground instead of through the grounding wire. The other way is usually through a person, also known as a ground fault. This can happen through various means, such as accidentally touching a live wire or dropping an electrical appliance in the bathtub. A GFCI can cut off the power to the outlet within 1/30 of a second, saving a person's life in these circumstances.

Types

There are three types of GFCIs available:· Receptacle. These are installed in the wall where your previous older outlets where located. If installed as the first in a "branch" of outlets (meaning this outlet supplies electricity for standard outlets further down the power line), one GFCI can provide protection for an entire room.
· Circuit breaker. In homes that have circuit breakers installed instead of fuse boxes (like most modern homes), a GFCI can be installed in the circuit breaker to provide protection to the various areas of your home. This has the added benefit as behaving like a fuse, also protecting wires and appliances from overloading.
· Portable. Some extension cord devices have a GFCI built in. If the appliance, tool, etc., is plugged into the extension cord housing instead of the outlet in the wall, the device will provide GFCI protection.
Below is a excerpt of an article prepared for the 17th Annual Spring Seminar, Feb. 21, 2004 St. Louis Chapter, American Society of Home Inspectors by J. Aronstein, Consulting Engineer, Mechanical and Materials Engineering BME, MSME, Ph.D., N.Y.S. P.E. LIC. NO. 39860, 50 Pasture Lane, Poughkeepsie N.Y. 12603.
Unlike over-fusing and pennies behind the fuses, defective FPE breakers cannot be spotted by an inspector or tested by an electrician or homeowner. Without doing a functional test (at overload and short-circuit conditions) on each breaker, one pole at a time for the two-pole breakers, one cannot actually determine the present operating characteristics of a breaker. Most electricians or electrical inspectors can only look at the breakers ("they look OK to me"), and operate the toggle ("they click on and off OK"). But without doing live-current functional testing on all of the breakers, it is impossible to determine which of the breakers in the panel are defective. Will they all trip properly on electrical overload or short circuit? Electrical contractors and inspectors are generally not equipped to do that type of testing, and homeowners or potential purchasers are not likely to have the required budget for extensive specialized testing. In fact, thorough testing would most likely cost far more than changing the panel.
The presence of an FPE panel in a home should be classified as a "Safety Defect". The FPE breakers are primary safety devices of questionable operating reliability. It is not quite correct to call the non-tripping breaker a "fire hazard". That term should be reserved for the electrical failure that causes ignition. The breaker's function is to stop certain electrical sequences that could, if allowed to proceed, lead to fire in the building. If an electrical fire hazard develops somewhere in the building, the breaker is supposed to trip and minimize the possibility of fire ignition. If the breaker is defective, fire is more likely to result.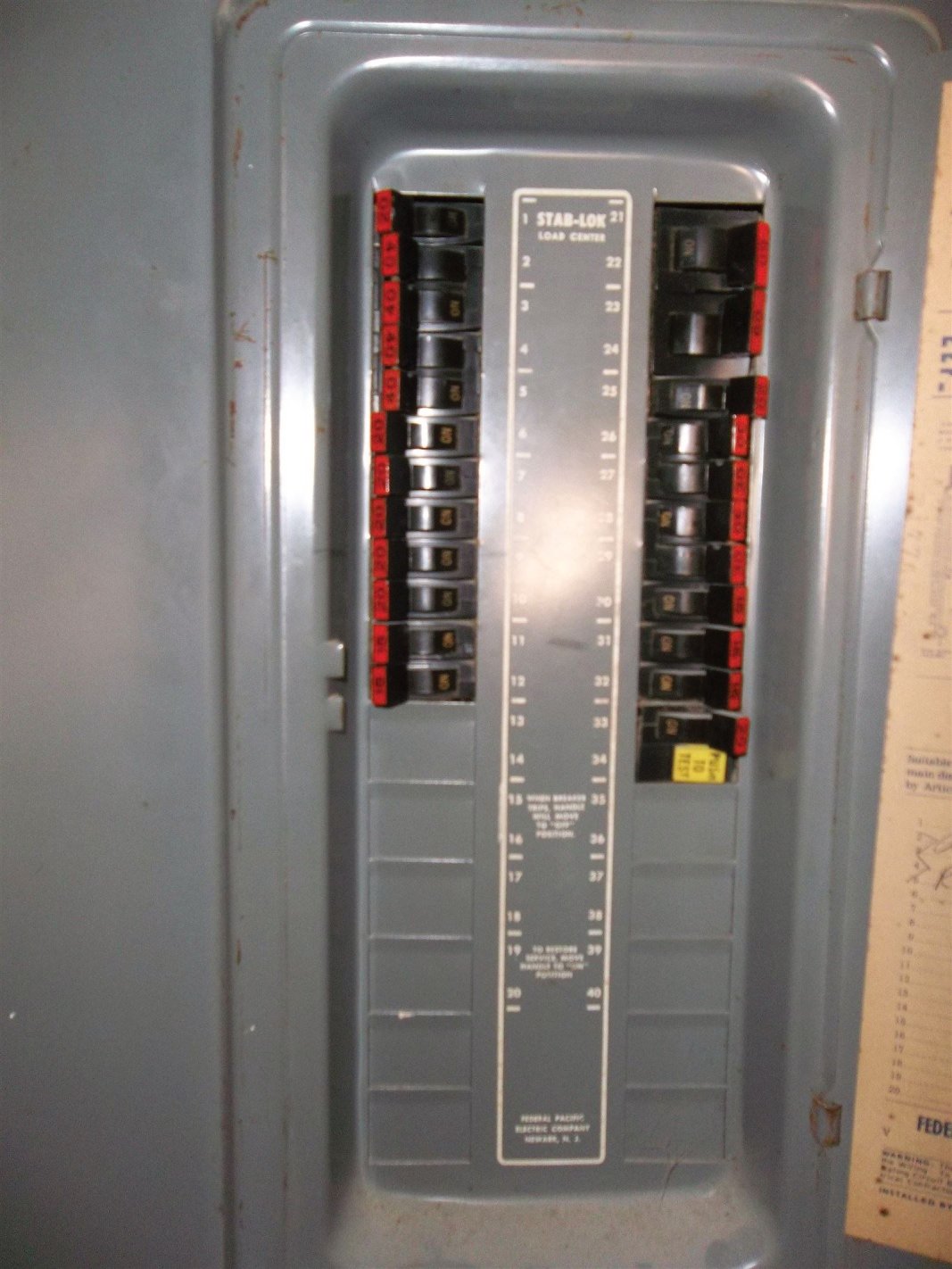 /