Shopping Cart
Your Cart is Empty
There was an error with PayPal
Click here to try again
Thank you for your business!
You should be receiving an order confirmation from Paypal shortly.
Exit Shopping Cart
Assurance Home Inspection Services llc.
Residential & Commercial Inspections
interNACHI Certified Master Inspector

Wind Mitigation & 4-Point Inspections
Air Quality/Mold Testing
Pool Inspections
(239)770-3391

​

​​

GFCI Outlets in your home

______________________________________________

Function

Unlike standard electrical outlets, a GFCI outlet constantly monitors the amount of current flowing between the left (hot) and right (neutral) slots. If the GFCI outlet detects even the slightest deviation in the amount of current flowing between these two slots, it trips the internal circuit and cuts off electricity to the outlet.

Uses

GFCI outlets have been a requirement of the National Electrical Code in the following situations:· Outdoor receptacles since 1973
· Bathroom receptacles since 1975
· Garage wall outlets since 1978
· Kitchen receptacles since 1987
· Crawl space and unfinished basement receptacles since 1990If your home was built before these dates, they are "grandfathered" and not in any violation of the Code. However, if any remodeling is done to your house in these areas, you are required to update your wiring to meet these standards.

Benefits

The main reason that a GFCI will detect a deviation in the amount of current is because the wayward electricity is finding another way to the ground instead of through the grounding wire. The other way is usually through a person, also known as a ground fault. This can happen through various means, such as accidentally touching a live wire or dropping an electrical appliance in the bathtub. A GFCI can cut off the power to the outlet within 1/30 of a second, saving a person's life in these circumstances.

Types

There are three types of GFCIs available:· Receptacle. These are installed in the wall where your previous older outlets where located. If installed as the first in a "branch" of outlets (meaning this outlet supplies electricity for standard outlets further down the power line), one GFCI can provide protection for an entire room.
· Circuit breaker. In homes that have circuit breakers installed instead of fuse boxes (like most modern homes), a GFCI can be installed in the circuit breaker to provide protection to the various areas of your home. This has the added benefit as behaving like a fuse, also protecting wires and appliances from overloading.
· Portable. Some extension cord devices have a GFCI built in. If the appliance, tool, etc., is plugged into the extension cord housing instead of the outlet in the wall, the device will provide GFCI protection.
Wind Storm mitigation in the State of Florida
_______________________________________________________________
Windstorm mitigation is our best defense against the devastating destruction caused by hurricane force winds. Windstorm mitigation means making your home more resistant to being damaged by high wind speeds caused by hurricanes and tropical storms. In addition to protecting you, your family, your possessions and your home, some of the things you do may lead to reductions in insurance premiums that you pay for the hurricane/wind coverage in your homeowner's insurance policy. Note that the discount does not apply to the portion of the premium you pay for coverage of all the other perils, such as fire and theft, which are covered under your policy.
Florida law requires all residential property insurance companies to provide hurricane insurance premium discounts for certain fixtures and construction techniques, which have been demonstrated to reduce windstorm losses, including discounts for houses that meet minimum provisions of the Florida Building Code. Houses built after 1994 in Miami-Dade or Broward Counties and houses built after 2002 in the rest of the state have many wind resistive construction features and will likely qualify for credits. The Florida Office of Insurance Regulation adopted specific percentages to be used for reducing the premium when a house meets specific standards. Insurance companies may use different percentages only if they can show by use of studies that different percentages are reasonable.
A
Hurricane Retrofit Guide
is available from the Florida Division of Emergency Management. This guide is intended to help consumers decide how to protect their homes against the winds and rains of hurricanes. It is also intended to help consumers decide which protection measures are the most important and therefore which measures should be implemented first. While some mitigation retrofits or protective measures can be done by the homeowner, most require the expertise of a handyman or contractor. This guide will help consumers address the need for professional assistance. The guide provides the homeowner with ideas as well as providing people familiar with construction or in the construction business with the technical help they may need to protect your home.
Also available, courtesy of the Division of Emergency Management, is the Florida Wind Insurance Savings
Calculator
. This online tool provides homeowners and builders with a general indication of the types of wind insurance savings available from Florida insurance companies for building features that reduce damage during high wind events like hurricanes. Building features that reduce wind damage and can lower wind insurance premiums include:
Although the
"My Safe Florida Home"
program has completed its mission, its website remains up and running. It is a valuable resource. It will walk you through the process for obtaining a wind inspection and a mitigation discount on your hurricane insurance premium. The My Safe Florida Home program exceeded the Legislature's goals of awarding 35,000 grants and providing more than 400,000 free wind inspections to eligible homeowners.
The
Institute for Business & Home Safety
(IBHS) works to reduce the social and economic effects of natural disasters and other property losses by conducting research and advocating improved construction, maintenance and preparation practices. The Institute has outlined the Top Five ways to better protect homes from damaging wind and rain this hurricane season.
Shutter all openings
Secure loose roof shingles
Seal openings, cracks and holes
Strengthen soffits
Survey surroundings
1. Shutter all openings.
The most important thing you can do to improve the chance your home will survive a hurricane is to protect all windows and doors. The range of products on the market today means it's easier to find protection that fits your budget. Whatever you choose, make sure the product has the proper approvals for wind pressure and large-missile impact. If it's not a permanent product, install permanent fasteners ahead of time so installation is easier when storms threaten. Gable end vents can be shuttered as if they were a window. Garage door companies have bracing systems available for about $400 that should work for most door styles.
2. Secure loose roof shingles.
Keeping shingles attached is critical to protecting your house. If the edge shingles are not well fastened or extend beyond the drip edge more than a 1/4", high wind can lift them off and create a peeling process or domino effect. If they come up without much effort (older shingles become brittle and may crack when bent too much), secure them with three one-inch dabs of roofing cement under each tab.
3. Seal openings, cracks and holes.
Water can invade homes in a number of ways, especially when it's being blown horizontally. The problem is compounded if there's a loss of power and air conditioners or dehumidifiers are unable to dry things out. Fill holes where wires, cables and pipes enter and exit the house and seal around electrical boxes and circuit breaker panels. Seal cracks around wall outlets, dryer vents, bathroom and kitchen vents, and wall lights.
4. Strengthen soffits (the material covering the underside of your roof overhang).
Keeping soffits in place can help keep water out of your house. Some have wood supports but the soffit material is not adequately fastened to the wood or there is no wood backing and the vinyl or aluminum channels are stapled or nailed to the wall. If there are wood supports, secure soffit material with sharp-pointed stainless steel screws. If the channels are just nailed to the wall, you can use polyurethane caulk to seal the channel to the wall and tie the parts together.
5. Survey surroundings and limit potential flying debris.
Limiting possible sources of wind-borne debris before a storm will help protect your home and those around you. Replace gravel/rock landscaping materials with shredded bark. Limit yard objects. Keep trees and shrubbery trimmed. Cut weak branches.
Additional sources for research and information on mitigation:
Assurance home inspection services, llc serving Fort Myers, Naples , Cape Coral
_____________________________________________________________________
**For a complete and thorough Wind Mitigation report on your home by a Licensed Florida Home inspector fully trained in Wind mitigation contact Assurance home inspection services, llc  at (239)770-3391  email    
[email protected]
Below is a excerpt of an article prepared for the 17th Annual Spring Seminar, Feb. 21, 2004 St. Louis Chapter, American Society of Home Inspectors by J. Aronstein, Consulting Engineer, Mechanical and Materials Engineering BME, MSME, Ph.D., N.Y.S. P.E. LIC. NO. 39860, 50 Pasture Lane, Poughkeepsie N.Y. 12603.
Unlike over-fusing and pennies behind the fuses, defective FPE breakers cannot be spotted by an inspector or tested by an electrician or homeowner. Without doing a functional test (at overload and short-circuit conditions) on each breaker, one pole at a time for the two-pole breakers, one cannot actually determine the present operating characteristics of a breaker. Most electricians or electrical inspectors can only look at the breakers ("they look OK to me"), and operate the toggle ("they click on and off OK"). But without doing live-current functional testing on all of the breakers, it is impossible to determine which of the breakers in the panel are defective. Will they all trip properly on electrical overload or short circuit? Electrical contractors and inspectors are generally not equipped to do that type of testing, and homeowners or potential purchasers are not likely to have the required budget for extensive specialized testing. In fact, thorough testing would most likely cost far more than changing the panel.
The presence of an FPE panel in a home should be classified as a "Safety Defect". The FPE breakers are primary safety devices of questionable operating reliability. It is not quite correct to call the non-tripping breaker a "fire hazard". That term should be reserved for the electrical failure that causes ignition. The breaker's function is to stop certain electrical sequences that could, if allowed to proceed, lead to fire in the building. If an electrical fire hazard develops somewhere in the building, the breaker is supposed to trip and minimize the possibility of fire ignition. If the breaker is defective, fire is more likely to result.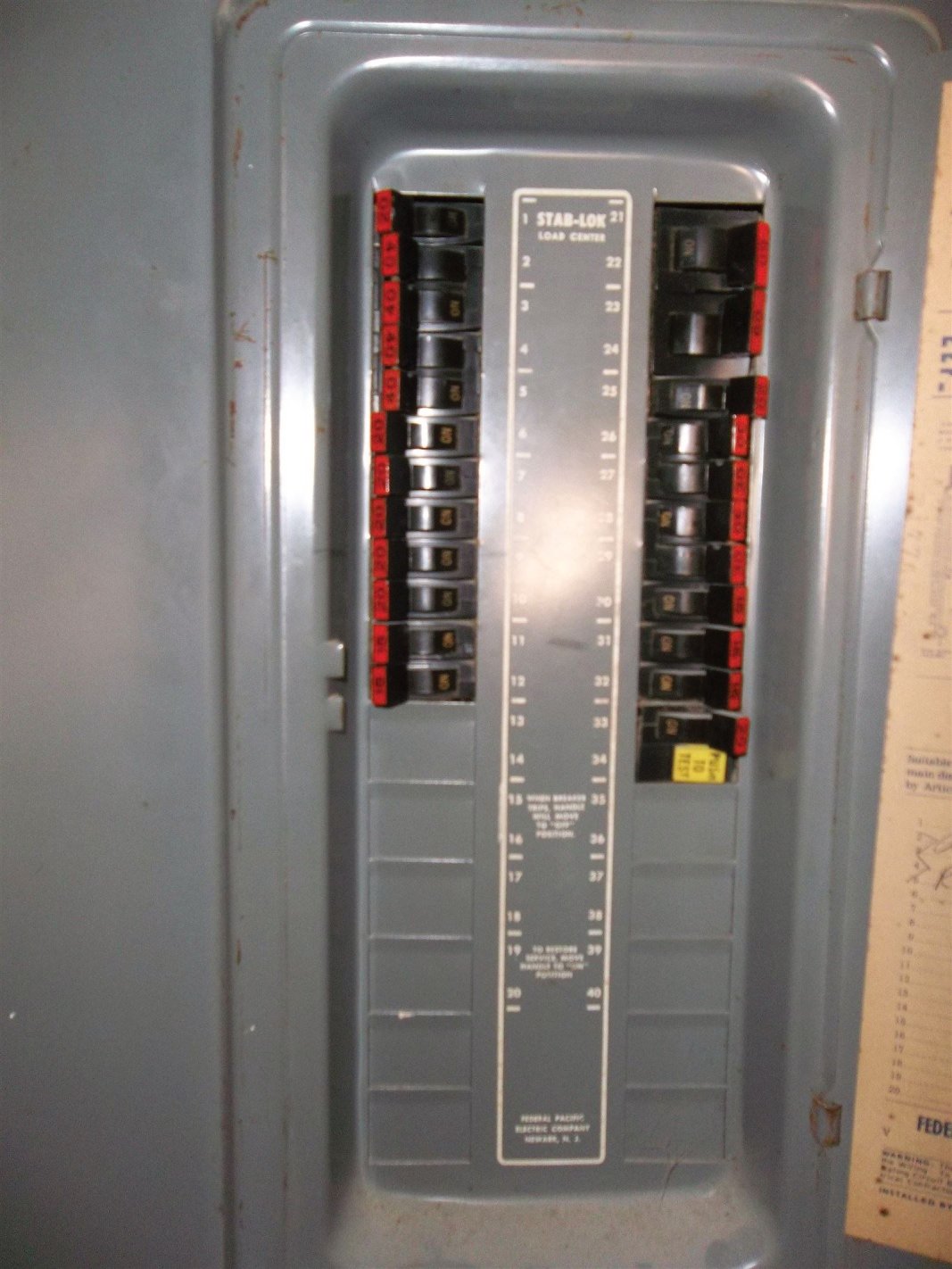 /